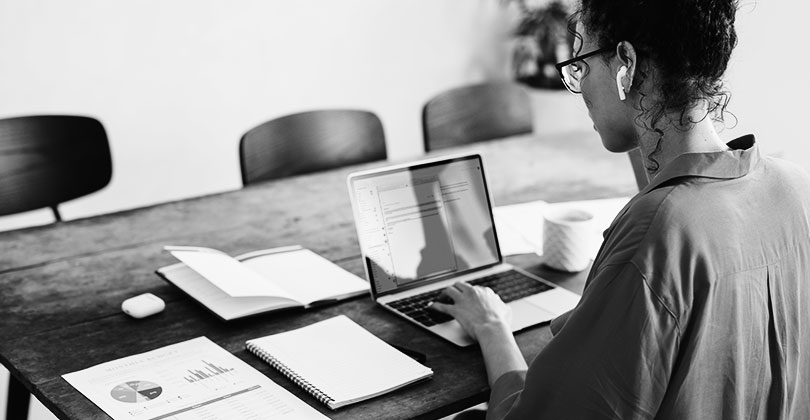 15 Easy Ways to Measure Your Financial Health
No matter what your money situation looks like, knowing where you stand financially is key. Given that more than two-thirds of people in the U.S. are not financially healthy right now,1 it's critical to stay on top of your personal finances, so you can put your best foot forward.
To help keep your finger on the pulse of your financial health, we've gathered a roundup of resources and tools that you can start using right away.
1. Podcast: Listen Money Matters
Before you self-audit your personal finances, it helps to build up your financial know-how. Whether or not you consider yourself a financial expert, the Listen Money Matters podcast offers tons of practical insights that can help you measure your financial health more precisely.
2. App: Credit Karma
Even if it's just one part of your broader financial picture, keeping tabs on your credit score is a good place to start. Credit Karma makes it easy to monitor your credit as often as you'd like for free. Plus, the app also offers features that can help you better understand your credit score and alert you of any suspicious activity.
3. App: Goodbudget
Another easy, tried-and-true method for measuring your financial health regularly is to simply see whether you're staying on budget. If you want a better way to budget, Goodbudget is a no-frills app that offers plenty of control over how you log and allocate your hard-earned dollars.
4. App: Wally
If you need a simple way to log your personal expenses, Wally could be just what you're looking for. This intuitive app allows you to take photos of your receipts to help you see where your money is going. What's more, the dashboard gives you a 360 view of all your personal finances.
5. Tool: Debt-to-Income Ratio Calculator
Measuring your debt-to-income (DTI) ratio can help you see whether or not your debt is manageable. To find your DTI ratio, you can use this free calculator by Credit.com. As a rule of thumb, if your DTI ratio is 30% or lower, your debt is generally considered under control.
6. Tool: Net Worth Calculator
Simply put, your net worth is the value of all your assets minus all your liabilities. When your net worth goes up, it typically means your financial situation has improved. When it goes down, it's often a bad sign. To find out your net worth, you can use this calculator by NerdWallet.
7. App: Morningstar Portfolio Manager
Admittedly, Morningstar's Portfolio Manager involves some legwork (you'll need to manually enter your holdings). However, the tool makes up for it with valuable investment data, allowing you to see your total returns, evaluate your strategy and create lists of potential opportunities.
8. App: Personal Capital
For a more holistic view of all your finances — including your assets — you can turn to the Personal Capital app. This free, easy-to use money management tool quickly summarizes key financial data like your net worth, spending and, more importantly, investment performance.
9. Website: CNN Business
Keeping up with your investments often means staying current on the state of the economy. Financial news sites like CNN Business can give you the insights you need to know in order to properly analyze your assets and make informed decisions on your holdings.
10. Podcast: Invest Like the Best
If you want to see how your investment strategy holds up according to top industry experts, Invest Like the Best is the podcast you need to hear. Even if you learn that you've been leaving money on the table, you'll find plenty of methods, tips and ideas that can help you improve.
11. Tool: Google Sheets
For those who are wary of investment apps — and are a little more financially savvy — Google Sheets could be the perfect fit. With useful features like Google Finance, which automatically updates market prices, it's a robust tool for a hands-on approach to tracking your investments.
12. Tool: Vanguard Retirement Nest Egg Calculator
To gauge your retirement preparedness, you can find out whether your investments will be able to cover your expenses in your golden years. The Vanguard Retirement Nest Egg Calculator makes it quick and easy to see just how long your "nest egg" — or retirement assets — will last.
13. Tool: Retirement Planner
Another way to see if you're on track to retire is to use an online retirement planner, like the one offered by MarketWatch. This tool can give you a quick overview of what your finances might look like in the future and offer customized options to help you better reach your goals.
14. Podcast: The Retirement Answer Man
When measuring the overall effectiveness of your retirement plan, it helps to have a second opinion. Roger Whitney, aka The Retirement Answer Man, is a certified financial planner whose podcast offers expertise that can help you see if you're taking the right approach to retirement.
15. App: Silvur
Once you're on the right path to retiring, it helps to know your progress toward your retirement goals. The Silvur app lets you easily see whether you'll be able to afford to travel or leave an inheritance upon retirement, offering a suite of tracking tools, personalized support and more.
Remember, there's more to measuring your financial health than simply checking your credit score. And with these tools and resources, you have everything you need to start forming a clearer picture of your personal finances today.
References
1Garon, T., Dunn, A., Celik, N., & Robb, H. (2020). U.S. Financial Health Pulse: 2020 Trends Report
---
---